In my last post for No Stress Homeschooling,  we talked about teaching the proper pencil grasp for handwriting with preschoolers as well as pencil grasp types.
However, in most cases, your older preschooler may have already started using a grip that isn't exactly proper or efficient. So today I am sharing some fine motor activity ideas that will help to correct or at least encourage your child to use a good pencil grip.
5 Fine Motor Activities to Help Encourage Your Child's Pencil Grasp
Are you ready for a few ways to help with developing pencil grip tips for your kids? I'm sure you are! Simply keep reading to see all the tips and then decide which tips you will try with your kids.
5 Developing Pencil Grip Activities
1. Focus on Pincer Grasp activities
What is the pincer grasp? It is basically using your thumb and index fingers to grab or pinch an object. In my pencil grasp development post over on GRB you can see some pictures of what this grasp looks like.
A few ideas for this could be:
Using a pipe cleaner to thread cheerios, hard candies, beads, or other smaller round objects that need to be pinched.
Horizon Group USA Pastel Bendi Sticks, Pipe Cleaners, Chenille Stems, Fuzzy Sticks 200 Pack , Multicolor

zees 1,000 Pipe Cleaners in 10 Assorted Colors, Value Pack of Chenille Stems for DIY Arts and Craft Projects and Decorations – 6mm x 12 Inches (1000)

2. Practicing "Go" and "stop" fingers
"Go fingers" are the thumb, index, and possibly middle finger (depending on if your child is using a tripod or quadruped grasp) which are placed on the pencil. The "stop fingers" are the last two fingers that are placed inside the palm. Practice using "Go" and "stop" fingers on a pencil, fine motor tweezers, crayons, bubble tongs, or any other type of fine motor tool.
3. developing pencil grip activities: Playing with playdough or clay
Molding, manipulating, squeezing, or pinching clay with fingers, fine motor tweezers, or tongs is another great way to strengthen the finger muscles needed for a good pencil grasp. Also, check out this post about Fine Motor Tools and Games for Pencil Grasp Development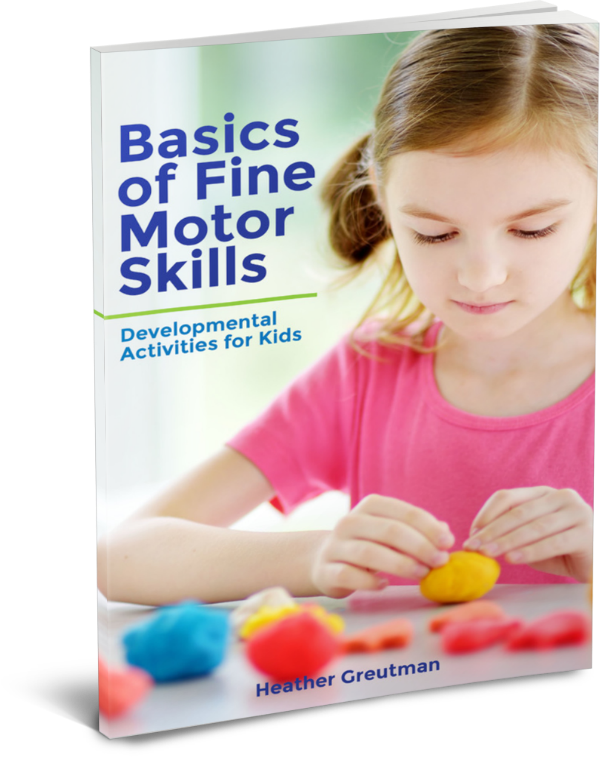 Play-Doh Modeling Compound 10-Pack Case of Colors (Amazon Exclusive), Non-Toxic, Assorted Colors, 2-Ounce Cans

 ALEX Toys Artist Studio Wooden Dough Tools Set 12 Piece

4. Don't forget visual motor skills to help that pencil grasp
Part of handwriting is not only the fine motor aspect but the visual-motor aspect as well. Mazes, puzzles, lacing cards, pre-writing line practice sheets, playing with blocks, etc, all include using this skill. And you don't have to use just a pencil to complete these tasks. Have your child paint through a maze or practice sheets.
 Melissa & Doug Wooden Building Blocks Set – 100 Blocks in 4 Colors and 9 Shapes

 Melissa & Doug Classic Wooden Peg Puzzles (Set of 3) – Numbers, Alphabet, and Colors

 Melissa & Doug Alphabet Wooden Lacing Cards With Double-Sided Panels and Matching Laces

5. Finger warm-up activities
Get the fingers ready for writing with some simple finger warm-up activities. Twirling the pencil like a baton, moving their fingers up and down the pencil with one hand, pushing fingers together with both hands like finger push-ups will help wake up the small muscles of the hand and help prepare them for handwriting.
**Please note: These activities and advice are for educational purposes only. If you feel your child has delays in fine motor skills or handwriting, please seek the advice of a local, licensed Occupational Therapist who can assess your child and make specific recommendations based on their professional evaluation. These tips do not replace therapy services for your child. All activities are meant to be completed with adult supervision.
Other Pencil Grasp Resources to Check Out
---
Heather Greutman is the therapy blogger behind Growing Hands-On Kids, where she encourages independence, one activity at a time. She uses her experience as an Occupational Therapy Assistant to provide resources, education, and activities for those working with or raising children of all abilities and ages. Her site focuses on child development, Occupational Therapy tips, hands-on activity ideas, sensory processing and behavior, and special needs. Heather is also a wife to David and mom to two kiddos, ages 5 and 2. You can find her at www.growinghandsonkids.com.