Looking for pencil grasp activities to improve your young children with the correct pencil grasp?
Finding the ideal pencil grip (that combo of finger strength and hand muscles)can be a bit challenging.
In my last blog post for No Stress Homeschooling, we talked about teaching the proper pencil grip to help with handwriting for preschoolers as well as pencil grasp types.
Naturally, it makes sense to now talk about a few pencil grasp activities.
If you wish to find some pencil grasp activities for preschoolers, then be sure to check out a few of our other pencil grip activities worksheets pdf such as our Circus fine motor sheets!
PENCIL GRASP ACTIVITIES : 5 FINE MOTOR ACTIVITIES FOR BETTER PENCIL GRIP
However, in most cases, your older preschooler may have already started using an inefficient pencil grasp in their daily activities.
How do you teach a pencil grip for preschoolers?
So today I am sharing some fine motor activity ideas as an occupational therapy assistant that will help to correct or at least encourage your child to use a good pencil grip when using a writing tool, as well as a tip or two on how to teach pencil grip.
Why is pencil grip important?
Did you know that a functional grasp leads to better letter formations which then helps with legible handwriting?
Whether you used pom poms, broken crayons, or even golf pencils, these finger movements can lead to legible writing.
Are you ready for a few ways to help with developing pencil grasp activities and tips for your kids?
Or maybe you are worried about the way your young child holds that golf pencil. I'm sure you are!
Simply keep reading to see all the tips and then decide which tips you will try with your kids.
As always remember that developing your child's pencil grasp is hard work for those little fingers. They have to learn to go from a primitive grasp to a functional pencil grasp.
[mv_video doNotAutoplayNorOptimizePlacement="false" doNotOptimizePlacement="false" jsonLd="true" key="yatuoyne7ldk5hebsj7h" ratio="16:9″ thumbnail="https://mediavine-res.cloudinary.com/video/upload/yatuoyne7ldk5hebsj7h.jpg" title="Fine Motor Activities for Pencil Grasp" volume="70″]
Focus on Pincer Grasp activities (Pencil Grasp Activities #1)
How do you hold a pencil activity?
What is the pincer grasp? It is basically when you use your thumb and index finger to grab or pinch an object.
In my stages of pencil grasp development post over on GRB you can see some pictures of what this grasp looks like.
I also talk about the different grasps such as dynamic tripod grasp and static tripod grasp.
Please note that affiliate links are used below for your convenience.
A few ideas for this could be:
Using a pipe cleaner to thread cheerios, hard candies, beads, or other smaller round objects that need to be pinched.
Practicing "Go" and "stop" fingers
"Go fingers" are the thumb, index, and possibly middle finger (depending on if your child is using a tripod or quadrupod grasp) which are placed on the pencil.
The "stop fingers" are the last two fingers that are placed inside the palm. Practice using "Go" and "stop" fingers on a pencil, fine motor tweezers, crayons, bubble tongs, or any other type of fine motor development tool.
[mv_video key="mfyqudwzqirayj0i1kyh" volume="70″ aspectRatio="true" title="Use These FREE Printables to Help Your Kids Learn" thumbnail="https://mediavine-res.cloudinary.com/video/upload/mfyqudwzqirayj0i1kyh.jpg" jsonLd="true" doNotOptimizePlacement="false" doNotAutoplayNorOptimizePlacement="false" sticky="false"]
Developing pencil grip activities: Playing with playdough or clay
Molding, manipulating, squeezing, or pinching clay with fingers, fine motor tweezers, or tongs is another great way to strengthen the finger muscles needed for a good pencil grasp.
Also, check out this post about Fine Motor Tools and Games for Pencil Grasp Development as it is filled with even more fun-filled pencil grasp activities.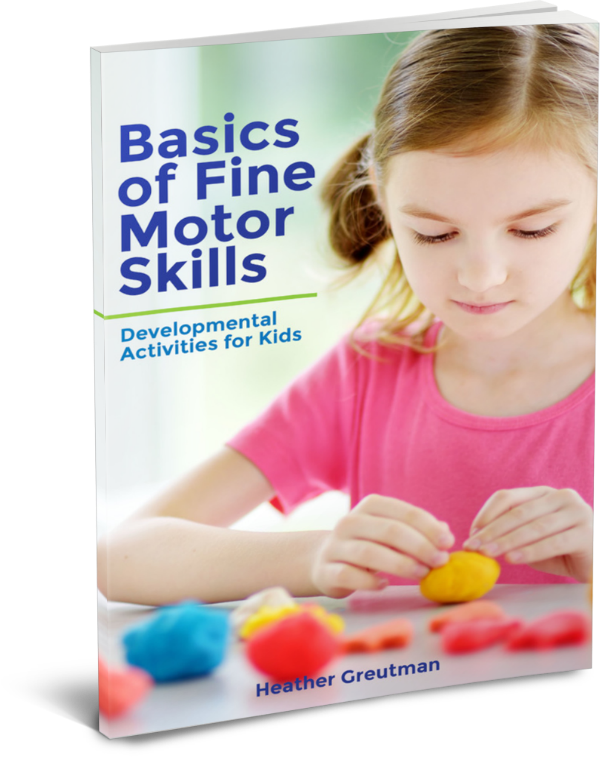 Don't forget visual motor skills to help that pencil grasp
Part of handwriting is not only the fine motor aspect in pencil grasp activities but the visual-motor aspect as well.
Mazes, puzzles, lacing cards, pre-writing line practice sheets, playing with blocks, etc, all include using this skill.
And you don't have to use just a pencil to complete these tasks. Have your child paint through a maze or practice sheets.
Melissa & Doug Wooden Building Blocks Set – 100 Blocks in 4 Colors and 9 Shapes

Finger warm-up activities (pencil grasp activities)
Get the fingers ready for writing with some simple finger warm-up activities.
Twirling the pencil like a baton, moving their fingers up and down the pencil with one hand, pushing fingers together with both hands like finger push-ups will help wake up the small muscles of the hand and help prepare them for handwriting.
More Pencil Grasp Activities Resources
Looking for even more resources on how to improve pencil grip in a child, more fine motor activities (or fine motor play), or just pencil grasp development in preschoolers on a hold?
Then check out the posts below!
Proper Pencil Grip: How to Teach Your Kids Handwriting (5 Actionable Tips for Pencil Grasp Development)
25+ Games for Pencil Grasp Development and Fine Motor Tools
**Please note: These activities and advice are for educational purposes only. If you feel your child has delays in fine motor skills or handwriting, please seek the advice of a local, licensed Occupational Therapist who can assess your child and make specific recommendations based on their professional evaluation with a proper occupational therapy assessment. These tips do not replace therapy services for your child. All activities are meant to be completed with adult supervision.
All free printable worksheets (including paid products) are now in the NSH Worksheets Collective which is hosted on THINKIFIC.
The cost is for life.
There are no free printables to download from the site but the posts will include how to use them.
All the DOWNLOAD BUTTONS are being switched out slowly and they all lead to a 404 page encouraging you to sign up for the NSH Worksheets Collective.​