Ever wished you knew a few occupational therapists to help with your child's pencil grasp?
Are you getting ready to teach your preschooler how to write but have no clue where to start?
What if I know nothing about proper pencil grip or a child's pencil grasp?
I don't know about you but I am in a constant state of fear that I am going to ruin my kids' little fingers.
Proper Pencil Grip: How to Teach Your Kids Handwriting (5 Actionable Tips for Pencil Grasp Development)
Today Heather will be sharing 5 proper pencil grip tips for pencil grasp development with young children that we can start doing now and involves fine motor play.
Did you know that an incorrect pencil grip could lead to your child having:
hand fatigue
a hard time writing
writing that's not legible (legible handwriting is pretty important)
Proper pencil grasp is so important for young children!
Proper Pencil Grip: How to Teach Your Kids Handwriting
A Little Background Info on why I can help with proper pencil grip
Before becoming a stay-at-home mom and homeschool mom blogger, I worked as an Occupational Therapy Assistant in the public school system.
So working with pencil grasp development at various ages and identifying the different stages of pencil grasp development was something I dealt with almost every day.
If a child is having problems with pencil grasp the best thing to do is go back and start at the beginning. Pencil grasp starts to develop at a very early age, around 3 months old.
You can check out my post on Typical Pencil Grasp Development on my blog. It has step-by-step pictures of each pencil grasp developmental stages and names of the different types of grasp.
By the time your child hits preschool age (3-5), they should begin to develop a tripod (3 finger grasp) or quadruped (4 finger grasp).
The tripod grasp includes the index finger and thumb directly on the pencil with the pencil resting against the middle finger.
The last two fingers should be fisted in the palm of the hand.
The quadruped grasp includes the thumb, index, and middle fingers on the pencil. The pencil should be resting on the 4th finger with the last two fingers also fisted into the palm of the hand.
If your child is struggling in using either of these types of grasps by the time they hit 4 to 5, focusing on the correct pencil grasp is important.
Older children (once a child hits 3rd grade or higher,) any grasp or writing habits they have formed will be very hard to break. This is why early intervention is important.
I would focus on the tripod grasp first. However the quadruped grasp is also considered an efficient grasp, so if they revert to that one it isn't a big deal. I use that type of grasp myself.
Practicing the correct types of hand grasp can be boring and also exhausting. I very much encourage hands-on activities for anything handwriting related to this page.
The last thing you want to do is just practice handwriting over and over again with pencils and paper.
For more preschool writing and proper pencil grip ideas, I wrote an ebook, Basic Shapes for Beginners.
It gives 30+ hands-on activity ideas for promoting good pre-writing skills, and developing hand strength which will also help with pencil grasp development.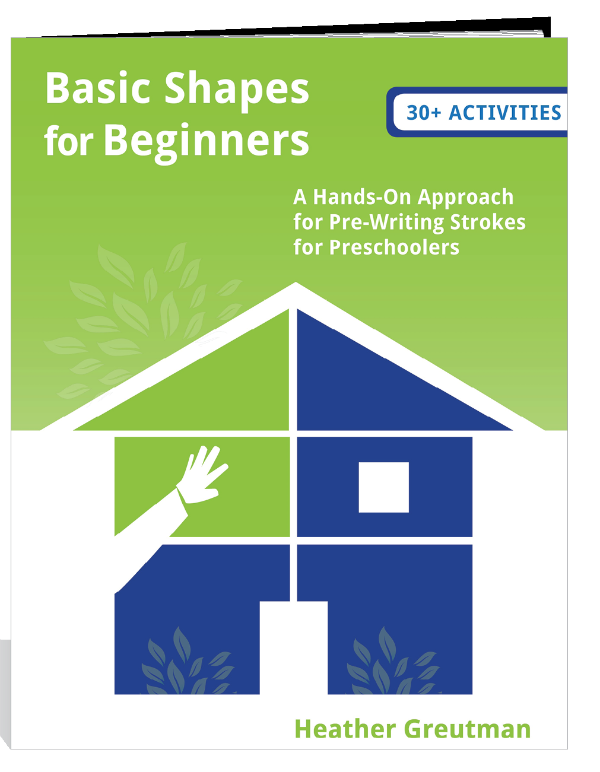 5 Tips for proper pencil grip to help your child's handwriting
Please note that affiliate links are used throughout this post for your convenience.

1. Use Broken crayons, mini crayons or pencils
I like to use flip crayons from Handwriting Without Tears. For pencils, you can use the golf size pencils. I also believe HWT sells mini pencils.
Crayola 64 Ct Crayons (52-0064)
Handwriting Without Tears FC Flip Crayon Set, Multiple Color (Pack of 206)
If budgets are a concern simply break regular size crayons in half and sharpen regular pencils down to about half their size.
This limits the space for the fingers, which encourages them to use the correct amount of fingers on the writing utensil to ensure a proper grip. You can also give them a short pencil to help with a good pencil grip.
Another quick tip is to have them practice their writing by taping a piece of paper on a vertical surface such as a wall or an easel.
2. Avoid jumbo or large size crayons or pencils
The extra-large markers, crayons, pencils, etc. but too much space between the thumb and index finger when a child holds them. This will only confuse them when they try to use regular-sized writing utensils.
It could cause them to hold the pencil or marker too hard because they feel like they don't have a good grip on it or have inefficient grips.
So stick to the regular sizes of all writing utensils to ensure an appropriate grip.
3. Focus on Fine Motor Activities
I mentioned the hands-on activities above. Focusing on fine motor activities is key at this age.
Don't worry so much about letter formation or actual handwriting practice at this age.
Focus on developing those fine motor skills which will lead to strong arms, hands, and more dynamic finger movements for handwriting.
This Circus Fine Motor Activity is just one of the many things you can try.
4. Use "Go" Fingers on the Pencil, "Stop" fingers in the hand
This was a fun little sentence I would tell my kids if I noticed they weren't using the correct grasp. Remember "Go fingers" on the pencil. "Stop fingers" stay in your hand.
If the child struggled to keep their stop fingers in their hand, I would give them pom poms or a coin to hold with their fourth finger and fifth fingers to remind them.
If you have tried everything and your child just isn't getting it, trying some simple pencil grips could be beneficial.
However, they should not be used for long-time use.
The goal should be to wean the child off them to a correct grasp with no grips. Here is a very helpful post, Pencil Grips 101 if you aren't sure which type of pencil grip to try.
The Pencil Grip Original Universal Ergonomic Writing Aid for Righties and Lefties, 6 Count, Assorted Colors (TPG-11106)
LOOKING FOR A QUICK AND EASY WAY TO REINFORCE MATH AND LITERACY SKILLS?
All free printable worksheets (including paid products) are now in the NSH Worksheets Collective which is hosted on THINKIFIC.
The cost is for life.
Other Pencil Grip Resources to Check Out
Teaching Handwriting in your Homeschool for Preschoolers. Or you can get even more ideas from my Handwriting Skills and Activities Pinterest board.

Heather Greutman is the therapy blogger behind Growing Hands-On Kids, where she shares developmental tips, tools, and strategies for growing hands-on kids. She uses her background as an Occupational Therapy Assistant to write about sensory processing and behaviors, fine motor skills, gross motor skills, handwriting tips, hands-on activity ideas, and more. Heather is married to David and they have two children, ages 6 and 3. You can find her at www.growinghandsonkids.com.

Don't forget to check out our collection of Preschool Letter Worksheets in the NSH Collective to encourage your young writers.